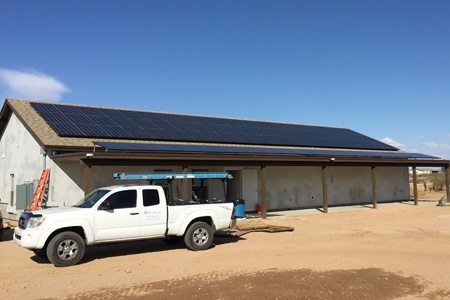 Interested in the benefits solar systems in Buckeye, AZ have to offer your home or business? Aneva Solar is here to help! We're the local authority on solar systems, educating you on the benefits. We can help you turn your curiosity into a great long-term investment, bringing clean, affordable solar energy to you at low costs—as much as 10-20% less than the competition! We're committed to helping you get the benefits of solar power.
Why Choose Solar?
If the concept of a solar panel installation in Buckeye, AZ sounds appealing to you, you're going to love the benefits that come with it! Check out some of the short- and long-term benefits that await you when you choose solar:
Energy bill savings, starting immediately
Solar is independent of rising energy costs
There are state and federal tax incentives
You can sell unused energy back to the grid
Solar panels are sustainable, lasting 25-40 years
Solar is environmentally friendly
Adds equity to your home or business
Our experts will walk you through each benefit and explain exactly how it applies to your home. This includes mocking up real dollar costs and figures so you can see the costs and savings.
Our Approach
We don't just strap solar panels to your roof! Our team takes the time to design a system that's specific to your home or business, so you reap maximum benefits from it. We'll consult with you before, during and after the process so you know exactly what you're getting and what you can expect.
Our team uses top-tier components from LG, Hyundai, SolarEdge, SMA and Fronius to deliver systems that are a cut above the rest. And, with competitive financing, you'll have great terms that back a system that's saving you money from day one. Let us show you what a great solar installation looks like and exceed your expectations for customer service and professionalism along the way.
Get the Benefits of Solar
The benefits of a new solar panel installation are yours for the taking! Contact us at Aneva Solar today to learn more about our approach to customization and installation for solar systems. We'll help you unlock the benefits of a solar installation for your home or business.
Reach us at 480-462-6382