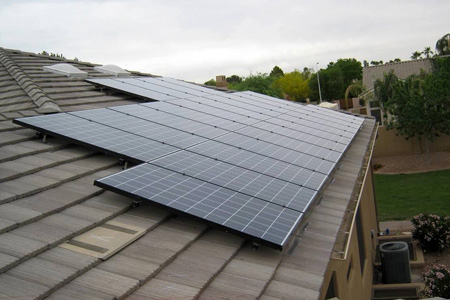 Want to start saving money on your energy bills? A solar panel installation in Chandler, AZ offers immediate and lasting value! At Aneva Solar, we want to help you tap into these benefits and more, so you can break free of rising energy costs and enjoy cleaner, greener energy now and in the future. Best of all, we can design and install your system for 10-20% cheaper than other contractors!
Why Choose Solar?
Investing in solar systems in Chandler, AZ means benefitting from a broad range of factors. From cost to the environment, solar brings you unique benefits that make it a great addition to any home or business:
Energy bill savings, starting immediately
Solar is independent of rising energy costs
There are state and federal tax incentives
You can sell unused energy back to the grid
Solar panels are sustainable, lasting 25-40 years
Solar is environmentally friendly
Adds equity to your home or business
Looking for real numbers, so you can make an informed decision about solar? Our experts will break these benefits down specific to your home or business, so you can see them in real terms.
Our Approach
Our goal is to help you get the ideal solar system and we're with you every step of the way. We design a system based on your home or business, answer your questions and address your concerns—then, we install everything!
We use only the best equipment from LG, Hyundai, SolarEdge, SMA and Fronius and pay close attention to every detail. When we're done, you'll have a superior solar installation, backed by some of the best financing terms on the market!
Explore the Benefits of Solar
The many benefits of solar are yours for the taking! Just contact us and schedule an appointment with Aneva Solar today and let us walk you through the design and installation process. We're happy to answer any questions you may have and will make sure you get the very best out of your decision to invest in solar technology.
Call us today at 480-462-6382