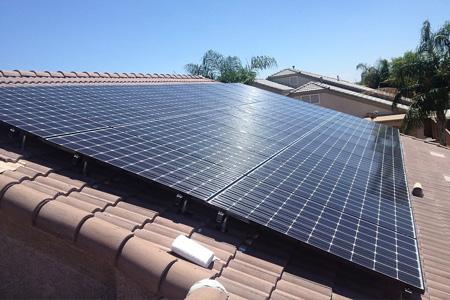 You've probably seen homes and businesses throughout the area with solar systems in Gilbert, AZ. At Aneva Solar, we've had a hand in designing and installing many of them. Now, we want to design yours! Our goal is to tailor a system for your home or business that reduces your energy costs and maximizes your return on investment. Let us introduce you to the benefits of solar for 10-20% less than the competition!
Why Choose Solar?
There are so many reasons to consider adding a solar panel installation in Gilbert, AZ to your home or business. Let our experts educate you on some of the many benefits you'll experience when you choose clean, safe solar energy:
Energy bill savings, starting immediately
Solar is independent of rising energy costs
There are state and federal tax incentives
You can sell unused energy back to the grid
Solar panels are sustainable, lasting 25-40 years
Solar is environmentally friendly
Adds equity to your home or business
Looking for even more benefits from solar? We'll put these advantages in context for you, so you can see how the savings and benefits stack up for your home or business!
Our Approach
Using state-of-the-art components from manufacturers like LG, Hyundai, SolarEdge, SMA and Fronius, we construct a solar system that's perfect for you. Our techs take the time to ensure every installation is perfect, with no corners cut and no details overlooked. We're also here to answer your questions, including concerns about financing or solar system maintenance. Our goal is to ensure you get an investment you're confident in!
Get the Benefits of Solar
Ready to explore the benefits of a solar installation for your home or business? Aneva Solar is here to help! We'll introduce you to the best components and tailor a system that's ideal for your building and budget. Let us help you get the very best return on your green energy investment. Contact us today at 480-462-6382 to learn more.