Solar Energy Systems in Arizona
Want to see if solar energy systems in Scottsdale, AZ are right for you? At Aneva Solar, we make it easy! By offering a free solar consultation, we're able to get to know more about your needs and explain to you the many possibilities that come with solar design.
Throughout the course of a solar evaluation, you'll have the opportunity to ask our experts questions, as well as get insights into the design process behind a customized system. This ensures every step of the process is transparent and comfortable, and that you have all of the information you need to feel comfortable pursuing sun solar in Scottsdale, Gilbert, Mesa, and Cave Creek, AZ.
Take a look at the premium products we offer!
Roofing Evaluations
When it comes to designing and installing a solar rooftop in Scottsdale, AZ, the condition of your roof is very important. Before we design and install a solar system that has a 20+ year life expectancy, our team thoroughly evaluates and makes you fully aware of the condition of your roof prior to installation.
We take the time to conduct a full roof evaluation on every home, making notes of any shade implications from vents, chimneys and surrounding trees. This roof evaluation process is something that is not done by many contractors and can lead to costly production issues in the future. We do the work upfront, to ensure long-term benefits for our homeowners.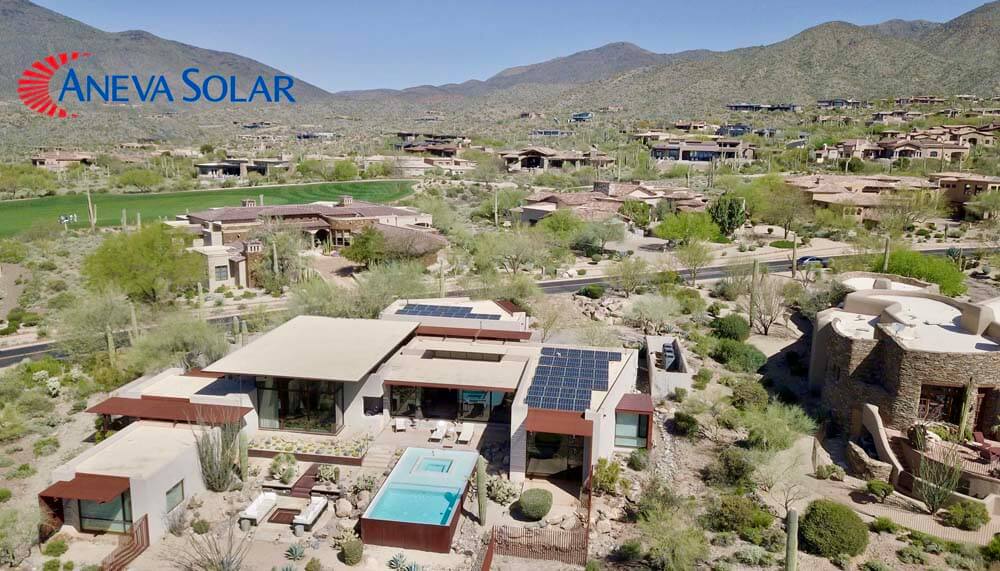 Designing Better Solar Systems
By evaluating your needs and the condition of your roof upfront, Aneva Solar takes pride in producing a higher caliber solar solution for customers. Our solar panel rooftop installations are specially tailored around the needs of your property and designed with your expectations in mind. The result is a solar system you can take to the bank for the next 20 years or more.
Please read our great reviews!
For more information about our approach to solar system customization or to schedule a free consultation and evaluation with our team today, please call 480-462-6382.