Solar Panel Installation in Litchfield Park, AZ
Solar panels are becoming more highly sought after. It's a way to ensure you have the power when you need it the most – and at affordable prices. Every home is different, which is why it's critical to get a solar power solution that is customized to meet your needs.
When you're in Litchfield Park, AZ, we at Aneva Solar can provide you with comprehensive solutions complete with premium components.
Solar Evaluation Services
Before we even begin to install solar panels on your roof, we recommend an evaluation of your home in Litchfield Park. This is a free consultation where we send out an expert to your home.
From there, we can determine how many panels can be placed on your roof so that you can understand more about the costs as well as the amount of energy that you will be able to produce throughout the year.
During the solar evaluation, you can ask questions – and we know that you have them. Our experts will help to provide you with insights into why solar panels are a wise investment and how a customized system can ensure you maximize your results.
We have a transparent process that gives you all of the information you need to make a decision with confidence.
Solar Systems Installation
At Aneva, we provide a roof installation of a solar system. We use premium products from such companies as:
Emphase
Hyundai Solar
Meyer Burger
REC Solar
Our excellent customer service allows you to relax knowing that our professional installers provide the proper installation. We use the most advanced solar technology along with the latest trends in installation. And the many referrals that we have speak of our customer service skills.
With a solar panel rooftop installation, we work to get the job done quickly while ensuring that every panel is carefully placed to maximize the energy that your system can produce.
The system we install is built to your specifications so that you can enjoy a more sustainable lifestyle. We see to it that the work is done right the first time. And once the installation is over, we take the time to review the system so that you understand how it works and how to get the most from it throughout the year.
Solar Products
A variety of solar products are offered to meet the individual needs of your home. We understand that some homes have different roofing systems, more shade, and other obstacles that can lead to challenges to secure enough energy. We focus on working with high-quality solar products that are long-lasting. It's why we're able to offer 10 to 20-year warranties on the products that we install.
Our goal is to provide you with a solar system that can generate enough energy to meet all of your needs, even during the months with the least amount of sun. It will provide you with a short return on your investment so that you can start saving even more with your solar installation. We ensure that all of our solar products need national electric and roofing codes – and that they are carefully chosen to meet your individual needs, wants, and demands. If you have further questions about the solar products that we use, schedule a solar evaluation from one of our contractors in Litchfield Park.
Frequently Asked Questions
How much energy can you save with solar panels?
The amount of energy that you can save with solar panels can depend on a number of factors – including the level of coverage that you have. If you have a solar energy system that is capable of covering 100% of your electrical needs, it is possible to save an estimated $1700 to $1800 a year.
The average Arizona resident uses around 1113 KWH per month – and if yaour solar system is built to cover this, you can say goodbye to electric bills entirely. And when you consider the various credits that you get from the federal government to reduce the cost of going solar, you could end up breaking even in approximately five to six years. This means you can save energy and money.
Do solar panels increase the value of your home?
Solar panels have the potential to increase the value of your home. The reason is that they can reduce or eliminate your monthly electric bills. Additionally, the placement of panels on your roof can also help to protect your roofing materials, allowing your roof to have a longer life.
When you compare homes of similar size within a single neighborhood, those with solar panels typically have a higher value simply because of the various benefits and cost savings that are in place.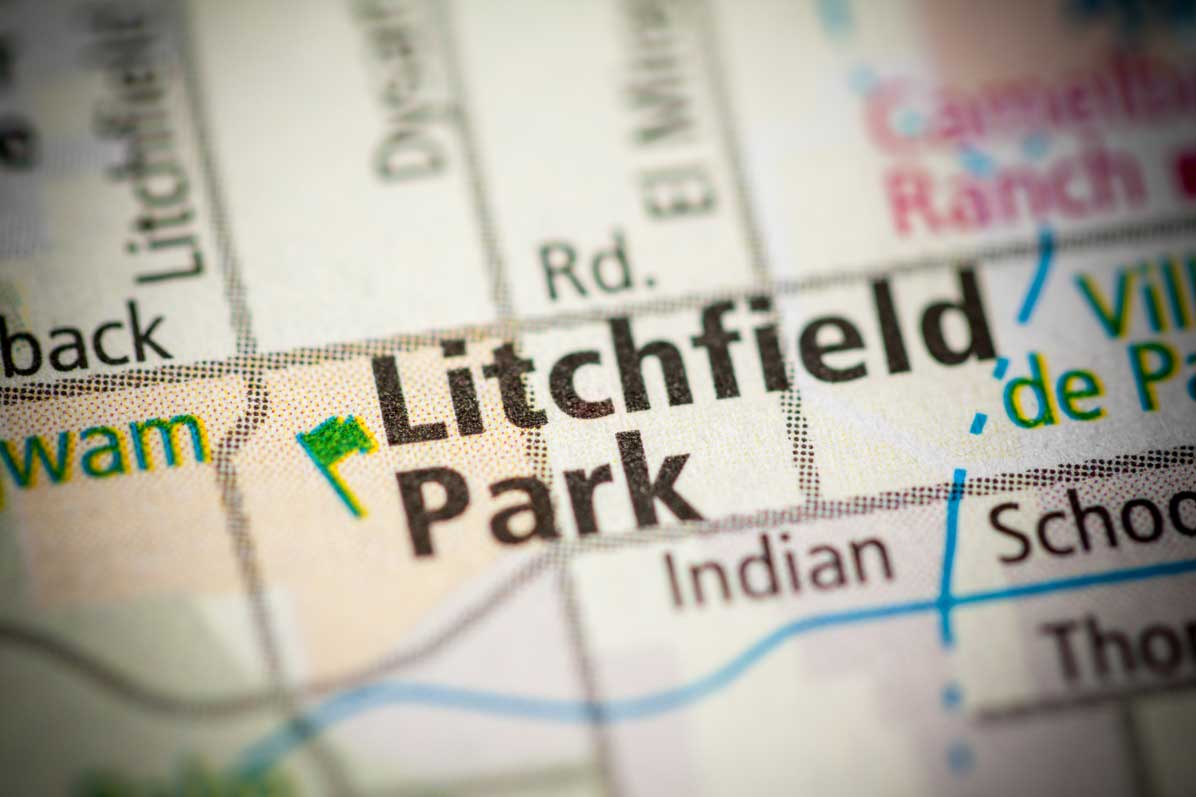 Do I need batteries with solar panels?
It is possible to have a solar system built with or without batteries. It is entirely possible to avoid battery storage. While there are advantages to having a solar battery backup, you can choose to forego it – or even add it in later on.
Need Solar Panel Installation in Litchfield Park, AZ?
If you feel as though your electric bills have only been getting higher or you long to have a more sustainable solution moving forward, solar panel installation in Litchfield Park, AZ can be a smart move.
You likely have a number of questions – about the process, the number of panels your home needs, and how it's possible to bank your unused energy from month to month. At Aneva Solar, we're here to answer all of the questions that you have – and it starts with a free solar evaluation conducted at your home. We will evaluate your roof and talk to you about the various solar products that we can install.
When you're ready to discuss the possibility of a solar system installation at your home, call us or use contact us online at your convenience.