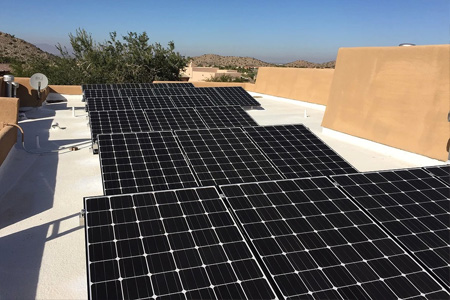 Aneva Solar wants to introduce you to the many benefits of a solar panel installation in Glendale, AZ. We take pride in tailoring systems specific to your home or business, using only the best components from proven manufacturers. And, since we're able to handle everything at 10-20% less than other installers, you're able to get an even bigger return on your investment! It's time to start exploring the benefits of solar. You can't afford not to!
Why Choose Solar?
There are so many reasons to consider solar systems in Glendale, AZ if you're contemplating an upgrade to your home or business. Let our experienced solar installers shed a little light on what makes solar such a great investment:
Energy bill savings, starting immediately
Solar is independent of rising energy costs
There are state and federal tax incentives
You can sell unused energy back to the grid
Solar panels are sustainable, lasting 25-40 years
Solar is environmentally friendly
Adds equity to your home or business
Let us provide context for these benefits! When we sit down to consult with you, we'll take the time to map out your costs and savings, so you see firsthand what you're getting.
Our Approach
We're in the business of designing custom solar systems that deliver maximum return to our customers. We use only the best components from LG, Hyundai, SolarEdge, SMA and Fronius, ensuring your system functions perfectly and lasts for decades.
When it comes to installation, we never cut corners and aim to exceed expectations. We even take the time to address your questions directly and help you understand financing and terms. Our goal is to help you be as confident in your solar investment as we are in providing it!
Contact Our Solar Experts
home or business? Contact us today by calling 480-462-6382. We'll walk you through the customization and installation process and educate you about all the benefits you can look forward to from your system.