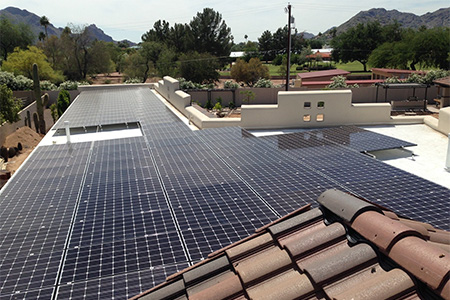 Clean, affordable solar energy can be yours when you work with Aneva Solar! As the premier contractor of solar systems in Paradise Valley, AZ, we'll design and install a system tailored around your home or business. We'll help you make a positive long-term investment in clean energy for a fraction of the cost of other contractors—usually 10-20% less! From education to installation, we're committed to helping you benefit from solar.
Why Choose Solar?
There's a lot waiting to benefit your home or business when you make the investment in a solar panel installation in Paradise Valley, AZ. Let us introduce you to the short- and long-term positives that come with clean, green energy:
Energy bill savings, starting immediately
Solar is independent of rising energy costs
There are state and federal tax incentives
You can sell unused energy back to the grid
Solar panels are sustainable, lasting 25-40 years
Solar is environmentally friendly
Adds equity to your home or business
Want to see exactly how these benefits apply to your home or business? During our consultation we'll lay everything out in real terms!
Our Approach
We have a reputation for professionalism, quality and reliability. Our experts take the time to design the ideal installation for your home or business, then walk you through the specifics. We answer your questions and make sure everything is ready to go ahead of time. When the time comes for an installation, we work fast without cutting corners, so you're left with a superior solar system.
We set ourselves apart by using high quality components from LG, Hyundai, SolarEdge, SMA and Fronius. And, because of our competitive financing terms, you're guaranteed the very best products at great rates! We invite you to see why customers choose us.
Explore the Benefits of Solar
Ready for lower energy bills and independence from rising energy costs? Solar power is the way to go! We invite you to contact us today to learn more about how to take advantage of affordable solar today.
Reach us at 480-462-6382 to schedule an appointment with our knowledgeable experts.