Solar Panel Installation in Phoenix, AZ
Few places in the United States get as much sun as Phoenix. That's what makes this area such a superb opportunity for solar energy! At Aneva Solar, we're ready to customize and install solar systems in Phoenix, AZ for your home or business, so you can start harnessing the power of the sun. Let us educate you on how to lower your energy bill, free yourself from the grid and invest in the future!
Why Choose Solar?
Energy costs are on the rise and only growing more expensive. Likewise, making eco-friendly choices is a great way to give back to the environment. It's for these reasons and more solar panel installation in Phoenix, AZ is on the rise! Check out the benefits:
Energy bill savings, starting immediately
Solar is independent of rising energy costs
There are state and federal tax incentives
You can sell unused energy back to the grid
Solar panels are sustainable, lasting 25-40 years
Solar is environmentally friendly
Adds equity to your home or business
Even beyond these benefits, there's more to love about solar. Let us put these benefits and more into context during a face-to-face consultation about your home or business' solar system.
Our Approach
From design to installation and beyond, we aim to exceed your highest expectations when it comes to a solar solution. Not only do we design your system specific to your home or business, we use the very best components from trusted manufacturers like LG, Hyundai, SolarEdge, SMA and Fronius.
We install with care and precision, respecting your home and the equipment. And, when we're done, we'll be happy to answer your questions! We even help you navigate financing, so you can make a solar investment with total peace of mind.
Phoenix, AZ
Arizona is one of the primary Southwest states and regions that is going to continue to get pummeled by the changing climate and increased number of days with strong sun. While the increased heat presence and sun exposure is increasing nationally, Phoenix is particularly affected, and it will likely see additional three-digit days added to the season annually. That means a higher cost of trying to stay cool, additional load on utility grids, and an increasing squeeze on the average home financially. Given the fact that nature is making so much of itself available in terms of sunlight going forward, doesn't it make sense to use that resource instead of being challenged by it?
Solar Power Frees Up Home Power Independence in Phoenix
If you're sick and tired of your local Phoenix utility grid just continuing to bump up power rates, create new tiers to add more costs and doing little in terms of making additional electricity available to you or avoiding blackouts from extreme loads, then it's time for you to seriously consider switching over to a solar power energy approach for your home or business. Having an alternative and avoiding all your eggs in one basket makes sense in business and other parts of life. Why not do the same with your utility as well?
Starting Off Right
The key success factor when it comes to a long-term, functional solar power system involves working with a professional, high-quality Phoenix installer. The systems available today are extremely powerful, durable, and reliable. However, they need to be installed correctly. Given the fact that every home is a unique combination of location, angle, position, structure and demand, installations need to match the home's nuances, not the other way around. Discounted installations cut corners, use a cookie-cutter approach to solar power installation, and usually fail to meet expectations. Again, starting off right with a custom analysis of what a home needs and what it can maintain structurally is critical for consistent performance.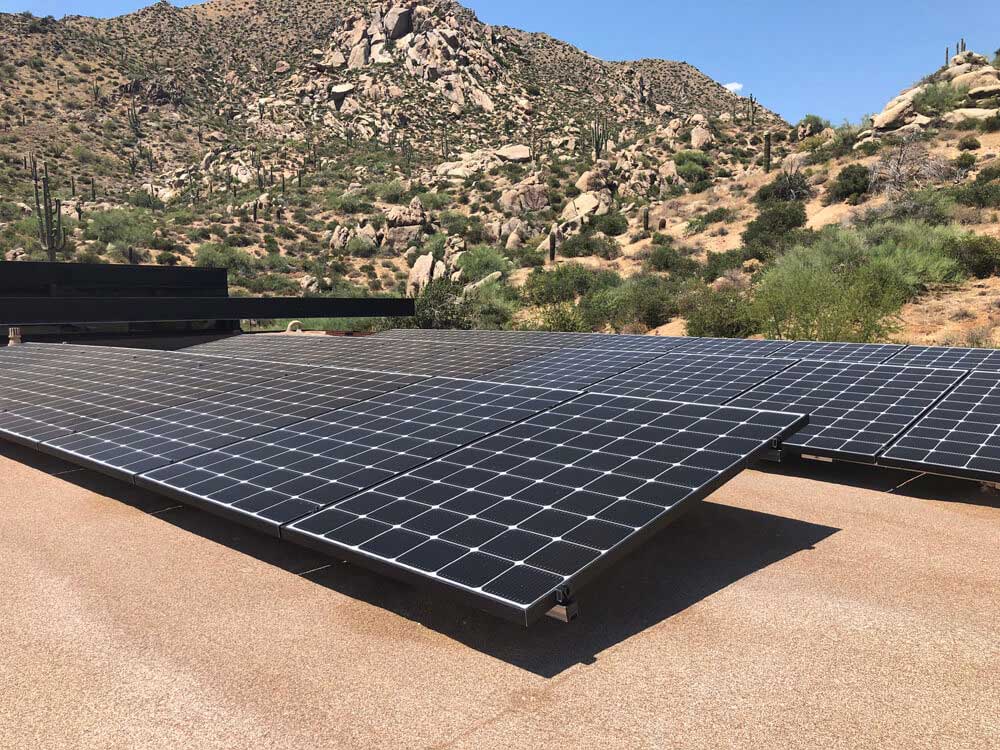 Practical Advantages Beyond Just Independent Energy
Aside from the fact that a high-quality solar energy system provides a homeowner or business its own energy source, ideal for 24/7 reliability even when there are blackouts, property owners also get additional benefits. First off, the one-time tax credit or tax deduction returns are significant, offsetting a serious amount of the cost of an installation within the first year. These are in place because the government supports the use of solar and wants to see greater adoption of it, as well as lower demands on traditional grids.
Additionally, a Phoenix homeowner or business owner could possibly end up creating an additional income source, especially in Phoenix where grid demand is already high because of the city's concentrated number of users. By simply utilizing less than what is generated, property owners essentially get a credit back from the grid by contributing extra power to it.
The Reliability of Solar is Proven
Unlike the problems with very early systems from 30 years ago, today's solar energy systems are extremely well-tested and proven in terms of their technology. In fact, many of the latest panels are so effective, many companies are moving wholesale into covering their facility roofs with them because of how much energy is generated and how fast the return on investment develops. Homeowners are not left out either. Home systems are easily adaptable to different home structures and positions, maximizing the sun's availability into energy output for far more than just a few room lights. In fact, some folks on the outskirts of Phoenix and in the rural areas of Arizona are practically off the grid entirely with their solar kits.
Working With a Solid Solar Partner
Aneva Solar has helped hundreds of homeowners and businesses in Phoenix tap into the very resource shining over everyone every day. Solar isn't going to go away anytime soon. In fact, for Phoenix residents, it's probably going to increase in terms of the number of triple-digit days per year. Given that outlook, it makes complete sense for a property owner to make the most out of their roof space and install solar to add both to immediate energy availability as well as to take advantage of the financial benefits included. Avena Solar can help folks tap into both effectively, as well as ensure a property owner enjoys a solid, well-built solar system for decades to come. Instead of looking at your neighbors and wishing you had taken advantage of what they talk about in terms of home improvements, you can be the one your neighbors are jealous of without breaking the bank. Solar not only pays for itself, but it can also even pay you back. Talk with us at Aneva Solar to find out more today!
Contact Us For Solar
Aneva Solar is your all-in-one expert for solar energy systems! Consult with us today and we'll design a system specifically for your home or business, so you can start taking advantage of everything solar has to offer. Contact us today at 480-462-6382 to schedule an appointment.