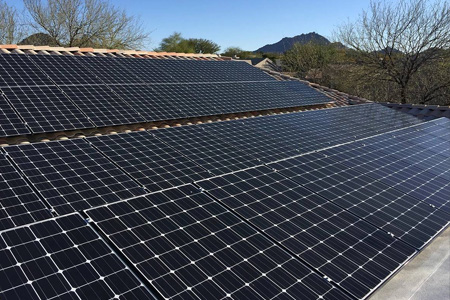 Want to break free from the energy grid and enjoy clean, affordable energy on your own terms? A solar panel installation in Peoria, AZ will help you do just that! Aneva Solar will help you get a system that's right for your home or business—typically at prices 10-20% cheaper than competitors! We use only the best in high-caliber products from reputable manufacturers, putting years of experience to work for you.
Why Choose Solar?
There's never been a better time than now to explore the benefits of solar power. Here's why more and more home and business owners are making the investment in solar systems in Peoria, AZ:
Energy bill savings, starting immediately
Solar is independent of rising energy costs
There are state and federal tax incentives
You can sell unused energy back to the grid
Solar panels are sustainable, lasting 25-40 years
Solar is environmentally friendly
Adds equity to your home or business
Even beyond these benefits, we'll sit down and consult with you about how, specifically, a solar installation benefits your home or business!
Our Approach
We pride ourselves on high quality work, performing tailored installations that meet and exceed your expectations. Count on us to bring professionalism, timeliness and superior customer service to every job. We'll answer any questions you have before, during and after the installation, so you're confident in the solar installation you're getting.
We take the time to design the ideal solar energy system for your home or business, ensuring every specification is set up to offer the best return on investment. Count on us to use only the very best components from LG, Hyundai, SolarEdge, SMA and Fronius. We even offer great financing terms! Our goal is to be your all-in-one resource for a great investment in solar energy.
Experience Solar Power
There's a lot to love about solar power. There's even more to love when Aneva Solar is handling your installation! We aim to help you get the best return on your investment in solar power.
Contact us today at 480-462-6382 to learn more about our low-cost approach to installing quality residential and commercial systems.