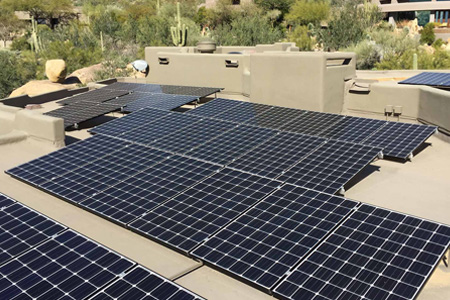 Interested in making the investment in a solar panel installation in Sedona, AZ? Before you start pricing or consulting with other contractors, call Aneva Solar first. We'll help you get a state-of-the-art system customized to your home or business, all for 10-20% less than our competitors! We bring you the very best in education, products and professionalism, so your investment in solar in one that lasts.
Why Choose Solar?
If you're on the fence about investing in solar systems in Sedona, AZ, don't worry—there are plenty of benefits to convince you! Take a look at some of the positives that come from a well-designed, professional-installed solar installation:
Energy bill savings, starting immediately
Solar is independent of rising energy costs
There are state and federal tax incentives
You can sell unused energy back to the grid
Solar panels are sustainable, lasting 25-40 years
Solar is environmentally friendly
Adds equity to your home or business
There are even more benefits, too! When we consult with you, we'll put things into real terms and quantify the costs and savings, so you see exactly why solar is worth the investment.
Our Approach
Few solar installers can match our expertise, professionalism and workmanship when it comes to installing solar! We design custom systems for your home or business, with an emphasis on maximizing your return on investment. Plus, we handle every step, from consultation and answering questions, to installation and any service.
Count on us to bring you best-in-class parts and components from LG, Hyundai, SolarEdge, SMA and Fronius. And, you'll have access to competitive financing that makes your alternative energy system affordable. Let us bring you the best products, for the best prices, installed by the best professionals.
Get the Benefits of Solar
RSolar power for your home or business is more attainable than ever before with the help of Aneva Solar!
Contact us today by calling 480-462-6382 to learn more. We'll help you explore a totally custom system for your home or business, so you can start taking advantage of solar energy's many benefits.