Solar Panel Installation in Surprise, AZ
Are you looking for a way to cut your energy bills without burdening your lifestyle? Let Aneva Solar educate you on the many benefits of a solar panel installation in Surprise, AZ! Our experts take the time to coordinate a system build specifically for you, maximizing your investment in clean energy. And, we'll help you make the switch to solar for much less than other companies—up to 20% less in some cases!
Why Choose Solar?
There's a reason the market for solar systems in Surprise, AZ has been on the rise. Take a look at just some of the many benefits that come from choosing an off-the-grid, renewable energy source for your home or business:
Energy bill savings, starting immediately
Solar is independent of rising energy costs
There are state and federal tax incentives
You can sell unused energy back to the grid
Solar panels are sustainable, lasting 25-40 years
Solar is environmentally friendly
Adds equity to your home or business
During our consultation, we'll take all these benefits and put them into real numbers for you. You'll be able to see exactly what your investment in solar looks like over the long-term.
Our Approach
When you choose us for your solar installation, perfection is the standard we work for. We don't cut corners when it comes to installation and always answer your questions about the process. Our team is with you every step of the way, from designing the perfect solar power system to installing it and even servicing it.
Count on us to use only the best in quality components from brands like LG, Hyundai, SolarEdge, SMA and Fronius. This ensures you get a system that works as it should and lasts for decades. Plus, we offer competitive financing rates! Let us help you approach a new solar installation with confidence.
Surprise, AZ
Sitting on the northwestern side of Phoenix, Surprise has just as much reliance on the same power grid as the rest of the greater Phoenix region. And that means, when the demand gets high, Surprise is going to be affected by the load challenges on that grid along with everyone else. Given the fact that the next few years at least will be seeing additional triple-digit figure days in terms of heat, not less, folks are more than likely to be caught in blackouts and power grid failures over time. As everyone in Arizona who has lived here for some time knows, that's just not practical in the summer and high heat season. And the heat extension risk is also the reason why folks should seriously consider energy independence with solar power along with its multiple benefits for Surprise, AZ homes and businesses.
There is a Solution with Very Available Energy Production
Fortunately, homeowners and businesses still can leverage significant advantages switching to solar power now or using it as a hybrid setup in their home with both connection to the grid as well as solar. First off, Surprise property owners are going to see a serious positive impact to their monthly power bill right after month one. That's because by shifting energy demand over to the installed solar system, the demand one is charged for off the traditional grid also goes down, ergo immediate savings in the pocketbook. Secondly, while everyone else is realizing their utility rates being ratcheted up, and new cost tiers being added for "excessive" use, solar power owners will be unaffected. They will likely never reach those higher tiers because again offsetting energy with solar supply instead of additional grid power.
The Government Wants to Help (Believe It or Not)
Surprise residents might be pleased to know that the cost of an installation isn't entirely out of pocket either. Instead of expecting to have to finance or deal with the up-front cost of a significant system application, there are multiple federal and state tax incentives that can be directly applied for with an installation. These come in the form of tax credits, literally a dollar-for-dollar reduction on tax liability for what is spent and claimed, or tax deductions that offset a portion of what is spent. Which one applies depends on how a property owner files their tax return at the end of the year. That said, it's a serious offset to the system cost, bringing a new solar panel installation well within reach for most households.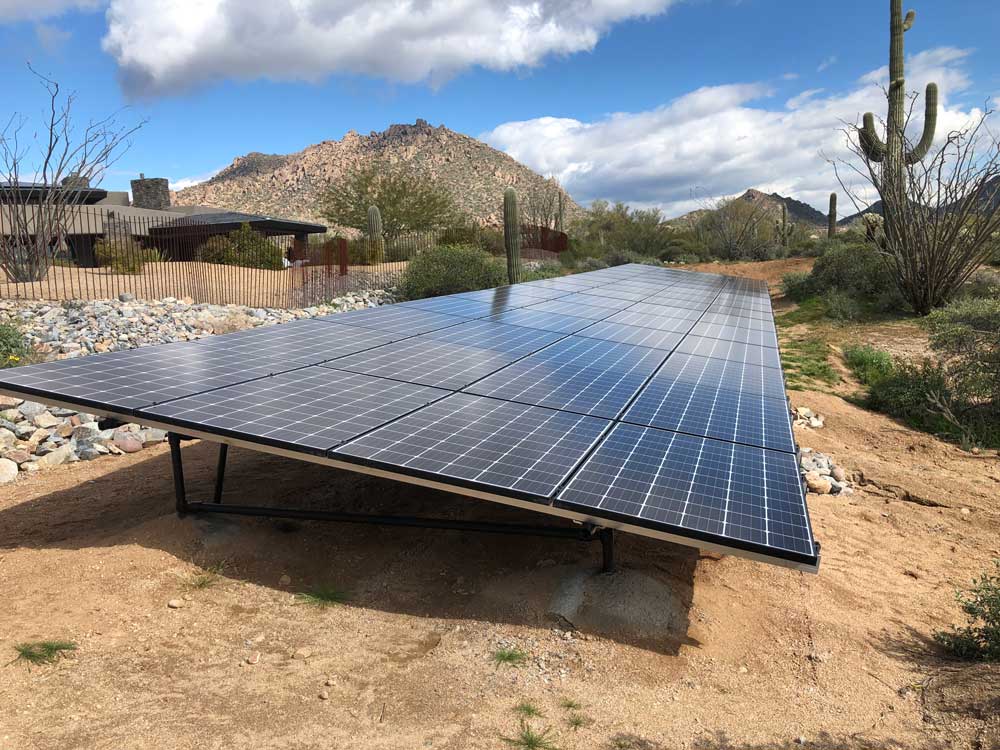 These Are Not Your Parent's Solar Panels
Home and business installations in Surprise won't have to worry about short-lived durability of parts and components either. Modern high-quality solar panels today are easily capable of lasting 20 to 45 years, depending on exposure and maintenance care. That makes them a solid investment for a property, both in terms of usage and energy reduction, as well as an increase in property value in case one might be thinking of selling and relocating down the road. The additional equity comes in handy, whether it be in a home refinance or additional real estate value captured at a sale.
Start Off Right with an Expert Installer
Aneva Solar has been the greater Phoenix area's most go-to solar installer for years, and we earned that reputation because of a customer-specific approach to installation. First, we focus on what your house needs and the expectations you have for solar versus just applying a cookie-cutter approach. Second, we make sure only high-quality components are applied to Surprise homes and businesses with expert technician work. We don't cut corners, and we don't allow sloppy work. Systems are only as good as how they are installed, so a top-notch installation is critical for maximizing the long-life expectancy of a solar system. By partnering with Aneva Solar, your home or business is going to see the best aspects of solar being realized, and you will also avoid a lot of the nightmares that come with discounted work in a rush to get in and get out. It's the number one reason why our team at Aneva Solar continue to win over most referrals from our satisfied customers telling their friends about how well things went with an installation.
The chance of things cooling down anytime soon, or the power grid resolving its challenges and reducing rates paid are slim. In fact, both are likely to stay the same or increase over the next 5 years. Folks who take advantage of solar are positioning themselves to be self-reliant for the next few decades, a key strength in a changing world. Aneva Solar can help. Give us a call and we can provide a consultation and a clear idea what would be involved with an installation for your home or business!
Get a Solar Installation
Now's the time to take advantage of all the benefits a solar installation has to offer! Consult with Aneva Solar today by calling 480-462-6382 and we'll teach you all about the benefits of a solar investment.
Our individualized approach to system design and installation can't be beat! Contact us today to learn why.